Well if you see around I think it is a great time to start your career in digital marketing as it is constantly rising with flying colors. Well, it not necessary for you to enroll yourself in a specific college or university if you want a career in digital marketing. You can start your career in digital marketing by learning some required skills with the help of online institutions and that all can be done through sitting at home in comfort.
Is digital marketing a good career in India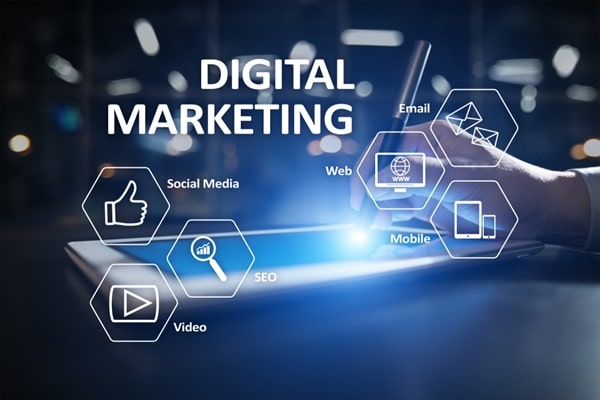 A digital marketing career in India is a great choice. Because we are now living in a digital world where people have shifted from traditional marketing forms to digital marketing and the numbers keep rising.
Companies need to focus on their online visibility and well there has been a recent career growth in digital marketing. There are numerous career opportunities in digital marketing in India where you have the liberty to choose from various such categories.
The best thing about digital marketing is that you do have to be at a particular place and that is why digital marketing is considered ideal for those who want to be full-time freelancers or are looking to start their own business. Well, I think I have somewhat answered the question that is digital marketing a good career in India, and to know further about it I think you should keep reading more.
How to start a career in digital marketing
Listed below are some steps which will help you understand how to start a career in digital marketing.
Fundamentals of digital marketing
When you are starting your digital marketing career the first step is to learn about what digital marketing is and what makes up digital marketing. Digital marketing or web-based marketing is just another name for marketing on the internet.
Digital marketing has different channels:
Search engine marketing: it specializes in two areas: search engine optimization and paid search advertising.
Website marketing: advertising your website online.
Content marketing: how to work with different types of content in your digital marketing campaigns.
Email marketing: marketing and advertising products through email.
Social media marketing: marketing on social media platforms.
Mobile marketing: marketing in different app stores.
Video marketing: marketing on youtube, and many different video channels.
Affiliate marketing: making sales by advertising someone else's products and getting affiliate commission.
A digital manager should be skilled to work with all the channels which are mentioned above.
Don't worry you don't have to do everything at once when you are learning every day you will develop your career in digital marketing slowly, you will gradually learn about different techniques, tools, technologies, and much more.
Start your website
Well once you know your way around the fundamentals of digital marketing the next thing you have to focus on is to start practicing and polishing your skills. And what is better than starting your own website you might be presented with great career opportunities in digital marketing, which will help you with your career growth in digital marketing and for that you need to learn and polish your skills so that you are not completely new to it.
When you are starting your career in digital marketing you need the necessary skills and credence when you are starting your own website. To simplify it start a blog and work on advancing your rankings and try to find or create a product to promote and advertise and make sales. This is a tiring process and as well as challenging and it will take time but if you want career growth in digital marketing then this will help you lay the foundation of it.
Become an SEO expert
Well if you are looking for your career growth in digital marketing then you have to be good and for that, you need to be an SEO expert and grow other skills.
When you learn SEO you will learn to create websites which is viable for both search engines and users, and this same concept will help you improve your Google ads as well as paid campaigns.
Grow your SEO career and then when you know that you have quelled on the skills of SEO, continue further with the rest.
Get a Google Ads certification
One of your many jobs in your career in digital marketing is to use Google ads, to advertise products or services in different distinctive Google applications and websites on the internet. The quickest way possible to learn the important skills is to get Google Ads certification. Google has numerous resources which will help you acquire the post of Google AdWords Expert furthermore; getting a confirmation is an incredible method to demonstrate to your customers or potential businesses that you have the vital abilities.
Master Facebook Ads Advertising
Now let's start with social media marketing mostly Facebook Ads. When you are a digital marketing specialist, you should know how different types of social media networks works but most of your time will be spent on Facebook and Instagram.
Facebook is of course a great social media network but besides that, it is also a place that is majorly important for any time of digital marketing campaign. Getting natural openness on Facebook is getting more enthusiastically so the best way to utilize Facebook as a selling tool is to figure out how to utilize their publicizing stage.
Become an expert in Google Analytics
Apart from learning about different tools and how to generate traffic, a digital marketer should know about Analytics. The main feature of any campaign in digital marketing is that everything is measurable. You realize the number of individuals who saw your missions, the number of individuals tapped on your promotions, the number of transformations they created, and a lot of different measurements that cover each part of a campaign.
To have the option to settle on educated choices dependent on genuine information, you need to realize how to gauge the viability of a mission and how to break down the outcomes. Your beginning stage is turning into a specialist in Google Analytics.
Get an Internship
One of the best ways to grow your skills and have a great experience in what you want to expertise in is by getting a real internship as a digital marketing assistant in a reputed agency.
You will be provided with great career opportunities in digital marketing, applying in internships are highly recommended because you get to acquire more knowledge about modern digital marketing agency and how it works and it really helps you to use some of their practices because if sometimes further you decide to have your own company or maybe join one you would already a digital marketing expert.
Well, these were some important steps to help you understand how to start a career in digital marketing, I hope this helped and I wish you good luck.