Are you looking to grow your knowledge of digital marketing? Paid Vs Free Digital Marketing Course in 2021? Well, one way to do that is to take online courses that will quickly teach you how to expand and achieve success by learning helpful fundamentals.
So how are you going to pick a course that fits your necessities as an individual?
Well, the first thing that comes into our minds is whether to take the online course or the offline course, but one of the most major decisions you have to make is about the budget – many options can be found which might cost thousands of dollars, which are generally not an affordable to a majority of aspiring digital marketers.
The recognition of online courses was first introduced through MOOCs (Massive Open Online  Courses) therefore, several people think that online education is free, but while buying the courses online they struggle with the problem of understanding the analysis of cost-effective of paid online education. 
Can free digital marketing courses be a competitor against the paid courses?
Paid Vs Free Digital Marketing Course in 2021:
Well, we will get to know that further as we will compare both the significant sides so that you can choose for yourself.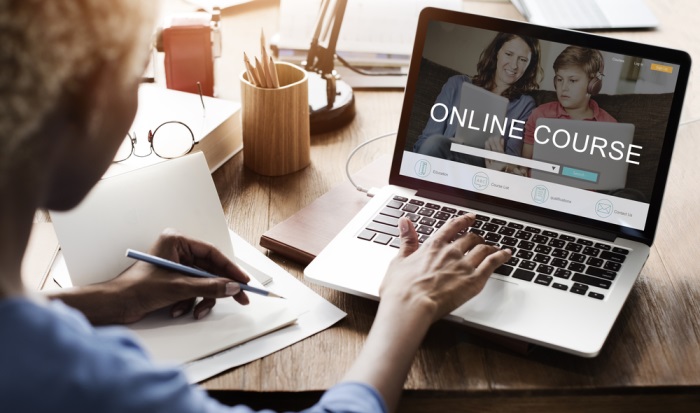 Benefits of Paid Courses 
A Clear Map Out 
In the paid courses the courses are well-designed and are made with a specific layout so that it's easier to understand and follow. Generally, the paid digital marketing course has a start-to-end structured map so that you can follow the right direction and learn through the way. 
Thus, in free courses these courses are not as aligned as the paid courses there isn't a starting or ending point as well as the information and topics are all over the place, and doesn't give a clear plan altogether.
2. Preferable Quality of Courses  
Paid online courses have a better way and quality of courses such as speedy online learning it has greater standard learning modules – they have the required assets and budget, to build instinctive learning interfaces, enticing videos, and easy exercise manuals to follow. 
The facts and figures are designed in a way that gives you the most out of each lesson because it is planned out to fit the overall plan of the digital marketing program,  instead of explaining the whole lesson in one go which doesn't engage with everything else.  
3. Acknowledged Certifications 
In today's era recognized certifications hold a great amount of significance, usually in most paid courses, a certificate is offered after you have completed your course, a  certificate really helps you when you are looking for a job or consumers.  
Sometimes certificates are also provided by free courses but they are not acknowledged or appraised by influential employees since free digital marketing courses don't have quite the reputation. 
4. Individual Assignments 
When you opt for a paid course they are inclined towards providing attention to every student – because you have paid for the course, in paid courses you are offered genuine feedback for your work, you are offered independent tutoring and you can consult them as you go along the course. 
General assembly courses mostly assign you with guides that provide you individual tasks and give you a beneficial response for your work. These kinds of benefits are hardly available with free courses because of their restrictions.
5. Deeper Materials 
Courses like digital marketing are taken by individuals who are very determined and focused who have aspirations in the field of digital marketing, therefore they require a depth level of information covered. 
If you opt for paid courses you can expect to receive a certain level of in-depth knowledge which is going to help you further when you practice further with professionals. 
In free courses they won't prepare you for the professional market they will give you only the basic knowledge which is far away from becoming a skilled digital marketer.
6. Professional educators 
Top-rated paid courses institutions are built by professionals who have experience and command in their fields, these institutions can be trusted with the facts and studies they provide to the learners. 
Acquiring feedback from professional instructors can be very resourceful and useful when you are undertaking topics that are comparatively difficult to understand. 
Information provided by free courses cannot be often trusted as the people working there are still trying to make a name for them. 
Benefits of Free Courses 
They are free 
People are attracted to the free courses because of the benefit of cost, you can start by without any expenditure and acquire all the knowledge even if you are a beginner. 
There are a lot of limitations of free courses, for instance, you can take up the course just to figure out if this is something you want to pursue further in the future.
2. Self – Study 
I agree that most of the free courses have their restrictions, but if you have a knack to explore and learn things the web is your answer it compiles vast information which has fine quality. 
It can be very great for you if you already are taking a free course and learning by yourself on the internet it will you find discrete materials which might give the education that is offered by many paid courses online. 
Do you know? That many well–known digital marketers started by learning by themselves and now have a great reputation in the market.
3. No Commitments 
In free course's you don't have to commit to the program if you don't like the particular program you can leave it after few classes and you won't even be at a loss
Therefore, when you opt for paid courses you often have to stick to the program as the paid courses generally are non – refundable, and by chance, you don't understand the format through what they are teaching you will be at loss.  
Best Digital Marketing Courses Available Online 
• The Complete Digital Marketing Course – 12 Courses in 1 – (Udemy) $129.99 • Getting Started With Online Marketing – (Skillshare) 2 weeks free then $10/month • Paid Traffic Fundamentals: Google Ads vs Facebook Ads – (Skillshare) 2 weeks free then $10/month
• Social Media Marketing: Top Tips for Growing your Followers & Going Viral – (Skillshare) 2 weeks free then $10/month
• YouTube Masterclass – Your Complete Guide to YouTube – (Udemy) $129.99
• Business Storytelling (Linkedin) – 1 month free then $30/month
• Telling Stories With Data (Linkedin) – 1 month free then $30/month • Complete SEO Training With Top SEO Expert Peter Kent! – (Udemy) $149.99
At last, there are a lot of free courses available out there but if you really are serious about this position, free courses won't do you justice they might provide you knowledge but that won't be enough. 
Therefore, you should opt for paid courses if you want to further continue being a digital marketer.